With Cameron UK is losing weight in European Union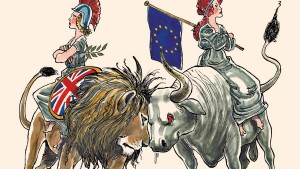 Britain's EU influence 'diminished'. Romano Prodi criticised Britain's 'attitude' and said it had resulted in lost influence in the EU
Romano Prodi interview with BBC on Belfast Telegraph of 03 July 2014
Britain's influence in Brussels has been diminished under David Cameron, a former president of the European Commission has claimed.
Romano Prodi criticised Britain's "attitude" and said it had resulted in the country losing influence in the European Union, which he insisted must involve ever-closer ties between the member states.
The Prime Minister lost his latest battle with European counterparts over the appointment of Jean-Claude Juncker as the next president of the Commission, the top job in Brussels.
But Mr Prodi warned: "With this attitude Britain is losing weight in Brussels."
The Italian, who led the Commission from 1999 to 2004, said when he was in Brussels the bureaucracy was dominated by the "high standard" of British officialdom.
"Now I think that this high level of power has been diminished," he told BBC Radio 4's Today programme.
The declining influence would impact on appointments to key roles and the choice of policies pursued by the EU, he said.
"To have less power in Brussels is to defend less and less your national interests."
With the prospect of a referendum on EU membership in 2017 if Mr Cameron remains in Downing Street after the general election, Mr Prodi said: "If you don't want to be part of an evolving group you stay out, that is your choice.
"My preference is that you stay in, but … I also think that in the global world if we don't stick together we simply disappear."
He added: "I think that you are important for Europe, but I think also that you cannot stop Europe."
Asked if that meant a commitment to an ever-closer union he said: "Yes, because otherwise we disappear from the world stage and I don't want to be humiliated as we are going to be humiliated now."
Meanwhile, reports suggested that Mr Cameron could receive a boost in his push for reforms in Europe, with German chancellor Angela Merkel's party supporting tighter restrictions on child benefits being paid to migrant workers' offspring living elsewhere in the EU.
The Times reported that German conservatives are concerned that Romanian seasonal workers can claim at the national rate of £146 a month even if their children remain at home. The equivalent rate paid by the Romanian state is £7 a month.
MPs from Mrs Merkel's Christian Democratic Union (CDU) demanded that child benefit levels should be set according to the location of the child, rather than their parent, the newspaper said.
Listen to Romano Prodi interview on BBC Radio 4 (1h35′ from start)