Poverty alleviation: a role for technology and infrastructure?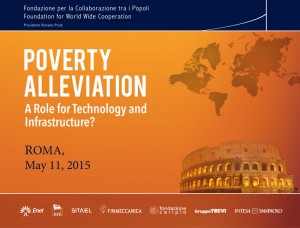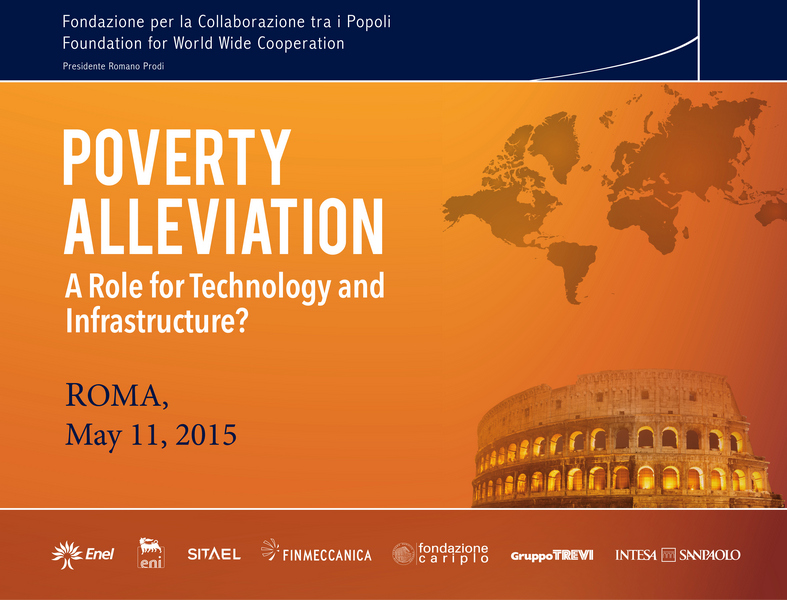 POVERTY ALLEVIATION
A ROLE FOR TECHNOLOGY AND INFRASTRUCTURE?
Roma, May 11, 2015
The Conference, organized by the
Foundation for World Wide Cooperation,
chaired by Romano Prodi, is under the auspices of
the Accademia Nazionale dei Lincei,
the Pontifical Academy of Social Sciences,
the Association of the Mediterranean Academies.
The Conference benefits from the extraordinary attendance of experts from the Chinese Academy of Social Sciences.
By simply 'blossoming' spontaneously out of any form of development planning, many 'new technologies' help basic needs.
Technologies often 'jumpstart' fast processes of modernization and contribute to leapfrogging solutions to poverty.
Infrastructure and technology have a direct positive impact on social inclusion given their grass root nature and the high level of connectivity they embed in societies.
Monday May 11 2015
09.00-18.00 Oratorio del Gonfalone, Via del Gonfalone, 32/A
(all participants sitting around the same table)
09.00 – Registration
Morning session
09.30 – Opening remarks: The Vision
Chair: Romano Prodi
Paolo Gentiloni – Minister of Foreign Affairs, Italy
Jason Pontin – Editor in chief and publisher of MIT Technology Review
Cristina Russo – Director International R&D Cooperation, European Commission
Keynote Speech:
Jin-Yong Cai – Executive Vice President and CEO International Finance Corporation (IFC), World Bank
11.00 – 11. 15 Coffee Break
11.15 – Session 1: Health and Food
Chair: Rob Vos – FAO, Director Social Protection Division
Co-chair: Andrea Cuomo, President, 3SUN
Introductory Speech: Rob Vos – FAO, Director Social Protection Division
Contributions by:
Alice Fanti – CEFA Onlus
Jennifer Elisseef – Biomedical Engineering, Johns Hopkins University
Albert Farrugia – Kedrion
Arrigo Pallotti – Professor of African Studies, University of Bologna
José Costa Pereira – European External Action Service, European Commission
Michael Plummer – Professor of International Economics, Paul H. Nitza School, Johns Hopkins University, Bologna Center
Massimo Ricottilli – Professor of Economics, University of Bologna
Yang Guang – Director IWASS, Chinese Accademy of Social Sciences
Open discussion of all participants
Summary and conclusion: Wu Guobao – Division of poverty and Development Finance at the Rural Development Institute, Chinese Academy of Social Science
12.15 – Session 2: Energy
Chair: Ernesto Ciorra – Head of Innovation and Sustainability Direction ENEL
Co-chair: Vijay Modi – The Earth Institute, Columbia University
Introductory Speech:
Vijay Modi – The Earth Institute, Columbia University
Contributions by:
Andrea Cuomo – President, 3SUN
Giambattista De Ghetto – ENI Senior Vice President, Technical Assurance, Development Operations & Technology
Faris Hasan – Director General, Opec Fund for International Development (OFID)
Anne Houtman – Principle Adviser to DG Energy, European Commission
Ahmed Hamdy – Director General, African Union Scientific, Technical, and Research
Jean George Malcor – CEO CGG
Ernesto Marcias – President Alliance for Rural Electrification (ARE)
Ewa Wojkowska – Co-Founder and COO, KOPERNIK
Open discussion of all participants
Summary and Conclusion: Ernesto Ciorra – Head of Innovation and Sustainability Direction ENEL
13.30 – Lunch
14.50 – Introductory Speeches
Cardinal Peter Turkson – President of the Pontifical Council for Justice and Peace
Jeffrey Sachs – Director Earth Institute, Columbia University
Connectivity as a Universal Human Right
Nicholas Negroponte – Co-founder Medialab, MIT
15.40 – Session 3: Connectivity (Communication & Learning)
Chair: Mo Ibrahim – President Mo Ibrahim Foundation
Co-chair: Nicholas Negroponte – Co-founder MediaLab, MIT
Introductory Speech:
Mo Ibrahim – President Mo Ibrahim Foundation
Contributions by:
Vittorio Colao – CEO Vodafone (video message)
Mamadou Kaba Traoré – President of AUST (African University of Science & Technology, Abuja, Nigeria),Professor in Computer
Bruce Krogh – Director of Carnegie Mellon University Rwanda
Ludger Kühnhardt – Director, Center for European Integration Studies (ZEI), Bonn
Marcella Elvira Logli – Director, Corporate Social Responsibility, Telecom Italia
Angelo Petrosillo – CEO Blackshape, CCO Sitael
Shamas-ur-Rehman Toor, Islamic Development Bank
Stefano Stangoni – Head of Global Banking & Transaction, Intesa Sanpaolo
Open discussion of all participants
Summary and conclusions: Didier Lombard – Former CEO France Telecom
16.45 – Round Table of Industry and Finance Leaders
Chair: Jason Pontin – President and Publisher of MIT Technology Review
Participants:
Mo Ibrahim – President Mo Ibrahim Foundation
Jean George Malcor – CEO CGG
Giovanna Melandri – President Human Foundation, Social Impact Investment Taskforce G8
Shamas-ur-Rehman Toor, Islamic Development Bank
Stefano Stangoni – Head of Global Banking & Transaction, Intesa Sanpaolo
17.45 – Final Remarks
Ertharin Cousin – Executive Director of the United Nations World Food Programme
Conclusion and Press Conference
–
Click qui per una selezione dalla Rassegna Stampa
( aggiornata al 7 giugno 2015 )
–