We need a blanket management mechanism to deal with emerging issues from Middle East to Asia-Pacific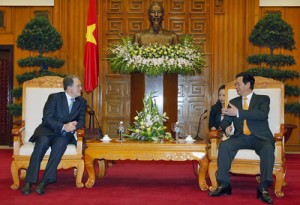 Former Italian PM talks global cooperation
Su Vietnamplus del 18 marzo 2013
Former Italian Prime Minister and former President of the European Commission (EC) Romano Prodi delivered a speech themed "Politics and Peace – Global Cooperation in the Age of Globalisation" at the Diplomatic Academy of Vietnam on March 18.
As part of the 4 th "Bridges – Dialogues Towards a Culture of Peace" series, the talk drew the participation of representative of the International Peace Fund, foreign embassies, universities and institutes in Hanoi as well as 250 students at the academy.
Prodi said that the 21 st century is witnessing enormous politic and economic changes with the rise of Asia, not only China but also India and many other regional countries.
Asian countries' average economic growth reached 7.5 percent in recent years while the figure was only 2 percent in the US and just over zero percent in Europe, he said.
The BRICS (Brazil, Russia, India, China and South Africa) and Turkey are newly emerging economies which are undertaking a more important role in regulating the global economy, he added.
Obviously, the world is shifting from the one-polar to multi-polar state, he noted.
Africa, with more than 2 billion people and a young population structure, also sees impressive changes, Prodi said.
According to the former EC President, the recent economic crisis, the longest since the World War II, has had negative impacts on people of the world, including social inequity and widening income gap.
These problems exist not only in Europe and the US but also in emerging economies such as China or India, he said.
The professor, however, emphasised the important role of the EU in the world politics and economy despite the crisis. The continent remains a large production centre and export market, as well as a key economic and financial centre of the world, he affirmed.
With such huge changes in the world and the shift of the world situation, Prodi stressed the need to have a blanket management mechanism to deal with emerging issues from Middle East to Asia-Pacific.
He called for good will, negotiations and agreement to guide the world along the direction of peace and cooperation.