Prodi nominato professore europeo per il dialogo sinoeuropeo all'università CEIBS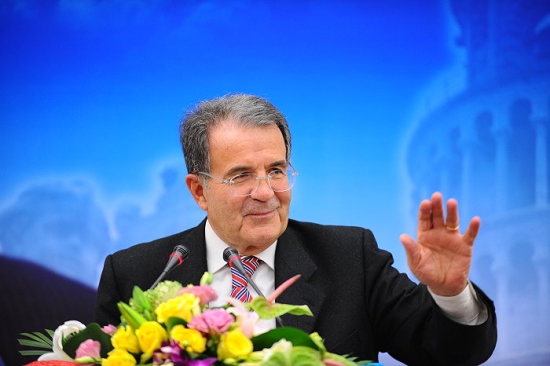 His Excellency Romano Prodi Appointed as CEIBS "EU Chair of Sino-European Dialogue", Speaks to CEIBS Alumni and Students at Beijing Campus
June 30, 2010. Beijing campus — CEIBS has appointed His Excellency Romano Prodi, former EU Commission President and two-time former Prime Minister of Italy, as "EU Chair of Sino-European Dialogue," effective through 2012. On July 3, H.E. Prof Prodi will lecture to CEIBS alumni, students, and media at the school's Beijing campus. His talk will cover "21st Century Main Geopolitical Dynamics".
As EU Chair of Sino-European Dialogue, Prof Prodi will be, during the course of each academic year, delivering lectures, participating in events and research discussions at CEIBS. During his first working visit in March 2010, Prof Prodi presented to CEIBS MBA and EMBA students and alumni, participated in an evening roundtable with CEIBS faculty, and spoke to the EU Chambers of Commerce in both Shanghai and Beijing.
Said CEIBS Dean and Vice President Rolf D Cremer in making the announcement: "We feel honoured and privileged to have Prof Romano Prodi, one of the world's most respected senior political leaders, joining CEIBS. His perspectives on recent European and global developments will greatly enrich the intellectual life of our students and faculty."
Prof. Prodi served as President of the European Commission (1999-2004), and served two terms as Prime Minister of Italy (1996-98; 2006-2008). Prof Prodi's political and academic career are both highly impressive. After completing postgraduate work at the London School of Economics, Prof. Prodi began his academic career at the University of Bologna in 1963, where he served as assistant in political economics and professor of industrial organization and industrial policy until 1999. He was also visiting professor at Harvard University and the Stanford Research Institute. During his academic and institutional career, Prodi has received several prestigious awards including Honorary Member of the London School of Economics and Political Science (1989) and the Schumpeter Prize by the International Joseph A. Schumpeter Society (1999).
Prof. Prodi entered politics in 1978, when he was appointed the Italian Minister of Industry. From 1982 to 1989, he chaired the Institute for Industrial Reconstruction (IRI), then Italy's largest holding company. In 1995, Prof. Prodi founded the Ulivo — "The Olive Tree" — the center-left coalition, which made him its candidate for prime minister in the 1996 elections. Ulivo won the general elections that year and the Prodi government remained in office until 1998. One of its achievements was to secure Italy's place among the first countries to adopt the Euro.
In 1999, Prof. Prodi was appointed president of the European Commission, the executive body of the European Union. During his presidency, the Euro was successfully introduced; the Union was enlarged by 25 new countries from central, eastern and southern Europe; and the treaty establishing a constitution for Europe was signed. He served until 2005. In Italy's 2006 parliamentary elections, Prof. Prodi again led the center-left coalition to victory, and again becoming Prime Minister until May 8, 2008. Prof. Prodi is currently President of the Foundation for Worldwide Cooperation and Chairman of the UN-AU Panel for Peacekeeping in Africa.